The Barack Obama Show on all channels all the time! (Part ONE of THREE)
.
.
.
.
By Stuart Schwartz
jumped the shark.
the forty-fourth president
of the United States tugged
strapped on his water skis,
roared off behind a motorboat
The term
"jump the shark"
comes from a late seventies
had the character Fonzie,
in his trademark leather jacket,
during a visit to Hollywood.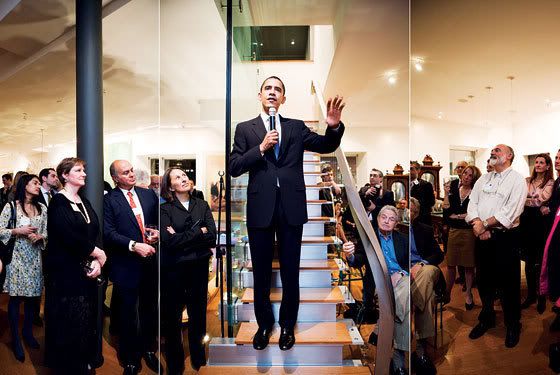 that tries increasingly more
desperate moves as its audience
disappears is said to have
hallmark of such productions,
and desperation has become
the underlying theme of what
leftist stalwarts like the
The Daily Show admiringly
call
Lee Cary of American Thinker
"gift has stopped giving."
Happy Days continued its decline
for another seven seasons,
its pleasant characters and
respect for ordinary people
storylines and lack of energy.
Congress is no Happy Days,
character whose no-nonsense
persona kept the show afloat
an administration built on
is now providing the viewing
public with increasingly bizarre
(departed truther Van Jones,
Ezekiel "Dr. Death" Emanuel),
and breathtaking disconnects
(or, as Joe Wilson put it,
shows
that 26% more voters
approve of the president's
the president's primetime
television audiences have
tried to end its ratings slide
with a classic jump-the-shark
The nineties situation comedy
earned a  place in the viewer
hall of disdain by devoting
nearly half of its four-year
run to special episodes designed
to generate controversy in
hopes of diverting attention
from increasingly unpopular
this desperate jump-the-shark
No Responses to "The Barack Obama Show on all channels all the time! (Part ONE of THREE)"